PROTECT YOUR CHARGER CABLE. APPLY A CORDCONDOM.
Does the scene of a charger cable fraying feel painfully familiar to you? Are you constantly running back to the store to buy your 6th cable in 6 months while your phone gasps for air? Put an end to all of that with CordCondom, the iPhone & Android charger cable protector.
In less than 15 seconds, you can extend the life of your cables, save money, and make your chargers look great.
CordCondom wants to revolutionize electronics accessories efficiency by providing a cost-effective way to help people worldwide practice safe charging. With our stylish cable savers, you can effortlessly save money, save trips to the store, and save mother nature by keeping thousands of chargers out of landfills each year.
Roll CordCondom onto your current charger in seconds and you're good to go!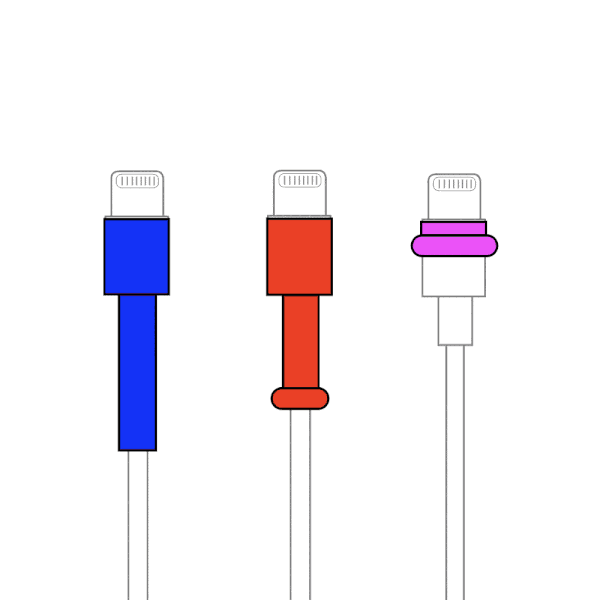 HOW THEY WORK
Ever notice that your chargers tend to break in roughly the same area each time? That's due to the design. In an effort to make cables easier to carry around and maintain that sleek appearance that we all love; most chargers are inherently flawed: there's no strain relief where the cable meets the plug.
That means every time you pull the cable to unplug your phone, stuff that charger into your pocket on your way to class, or roll it up and throw it in a bag on your way to work, you are putting unbearable strain on the meeting point of the plug and cable, causing it to fray (and causing you a lot of rage).
The result? More money spent, more trips to the store, and more plastic in landfills. We want to put an end to that. Cordcondom rolls effortlessly onto the end of the charger, fitting snugly into place on the most sensitive area of the accessory. The added support and stability provided by our rigorously tested cable savers will help your precious charger last for ages. The added grip when you unplug your phone, added support when you roll it up, and extra support for when it's mangled up in your pocket or a bag will prevent the regular wear and tear that causes your heartache.
The benefits of our iPhone cable protector don't stop there, either….
The iPhone and Android Charger Cable Protector and Cable Saver.
Tired of your charger always needing a fix?
Just roll on a CordCondom.

OUR PURPOSE
Our goal is to create products that extend the life of some of your much-loved electronic products—especially chargers. Only after passing our extensive tests will you see a product we feel is good enough to sell on our site.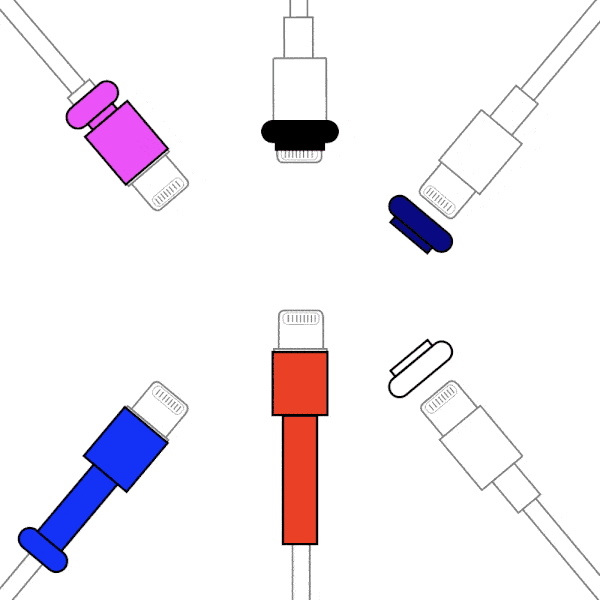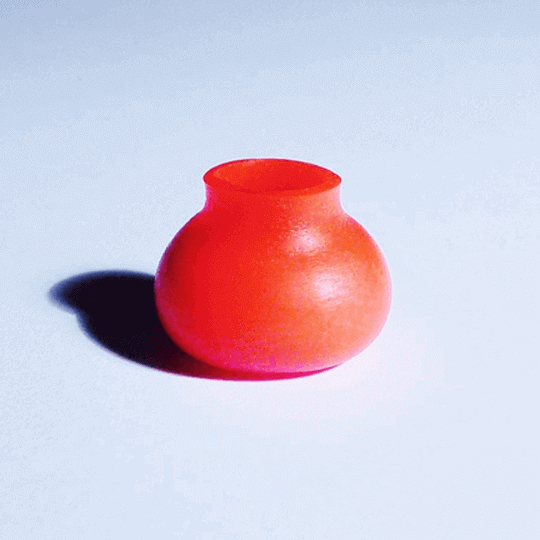 OUR PRODUCTS
We aim to protect your mobile devices and chargers for as long as possible. We all love our phones and as a result, they take a beating. That means dead batteries and broken or malfunctioning chargers. Protect yours now with a CordCondom.
CordCondoms come in 7 groovy colors and fit multiple chargers
The aim? To protect your charger cables and provide better grip while allowing
you to choose the color you want so you always know which cord is yours.
Free shipping on all orders!
What people are saying about us
"I applied the cord condom very easily and so far it seems to be protecting my cord from bending as much as it used to. Definitely does add needed grip to the charger as well."

ESTEBAN Y, VANCOUVER, CANADA (December 2016)
"I received my cordcondom 4 days after ordering it. I was most impressed by the silitape, it was a really cool tape that didn't feel sticky at all but stuck incredibly well to itself and the condom. Great stuff guys, I look forward to making this charger last."

JACOB T,SAN DIEGO, CA (September 2016)
"Ordered this to put on my Galaxy charger, arrived in about a week. Was a bit tough to put on the first time but the second time was much easier, I rolled it on backwards the first time but then realized the first step in the instructions was to make sure it was facing the right way so that was mostly my fault. It's a good product and after 2 weeks of use i'm quite happy with it, the pink looks nice and is easy to find in my purse."

CINDY H, AUSTIN, TX (January 2017)
"I received this product as a kickstarter reward. the campaign was well managed and deadlines for delivery were met. product quality was good and does what they promised."

Kevin C, LONDON, ENGLAND (October 2016)
"Got this as a Christmas gift from a friend as somewhat of a gag gift. Was really surprised at how well it protected my charger though. have been using it for 2 months and it even makes the charger easier because of how grippy it is.

Jim A,UTAH (March 2017)
Want FREE Gift Cards & CordCondoms?
Just Sign Up For Our Newsletter
Every so often we give away gift cards, CordCondoms & phone accessories. Subscribe to our newsletter for a
chance to win in our draws.
[sg_popup id=10059]