9 Charger Protector Pack

Description
Pack of 9 iPhone Charger Protectors
Are You Tired Of:
Plugging in your phone to see it no longer recognizes your charger?
Walking around with a cable that looks like a rabbit snacked on it?
Accidentally taking your co-workers or family member's charger because you all have the same one?
Struggling to grasp the small charger head when unplugging your cord?
End all of that with a CordCondom iPhone charger protector! They roll on in seconds and provide Protection, Grip, and Personalization to your charger.
CordCondom Fits On:
iPhone/iPad Lightning Cables
Most Micro USB's (Samsung Galaxy Phones)
Most USB-C Type (New MacBooks and Google Pixel)
MagSafe 1 Charger (Non-Retina Display Macbook)
The same CordCondom fits on all of these cables. We refund you if it doesn't.
This Pack Includes:
9 CordCondoms iPhone charger protectors
9 Silitapes
100% Money-Back Satisfaction Guarantee ✅
If your charger no longer connects to your phone we recommend you add a New Charger to pair with this product.
Our 9 pack of Apple Lightning and Samsung Micro USB charger protectors are the ultimate answer in charger sleeves, helping your cables get the support they need on a daily basis to last longer and be more durable.
Simply wrap the Silitape on the phone charger cord you use, then roll on a CordCondom in your choice of color in under 20 seconds. The CordCondom will then fuse with the Silitape and charger to ensure the charger lasts much longer than without protection. There is no need for any other tools or any heat, just roll it on and the CordCondom does the rest.
Buy 9 CordCondom iPhone charger protectors now for big savings down the road by protecting all your charger cables at home or in the office.
Buying new chargers at list price will easily run you a lot more than it should. Even if you manage to find knockoffs, used items, or discounts around the web, you're still going to be paying a lot more for replacement cords than you should be. That's because you shouldn't be paying at all! Chargers should last!
At less than $20, you pay less than the retail price of a new charger and have protection for 9 cords, each one guaranteed to extend the life of the charger it's on.
Get yourself our Apple Lightning cable and Samsung Micro-USB protectors for big savings!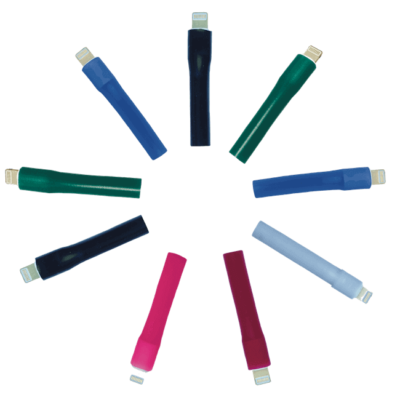 Additional information
| | |
| --- | --- |
| Color #1 | Black, Blue, Green, Pink, Purple, Red, White |
| Color #2 | Black, Blue, Green, Pink, Purple, Red, White |
| Color #3 | Black, Blue, Green, Pink, Purple, Red, White |
| Color #4 | Black, Blue, Green, Pink, Purple, Red, White |
| Color #5 | Black, Blue, Green, Pink, Purple, Red, White |
| Color #6 | Black, Blue, Green, Pink, Purple, Red, White |
| Color #7 | Black, Blue, Green, Pink, Purple, Red, White |
| Color #8 | Black, Blue, Green, Pink, Purple, Red, White |
| Color #9 | Black, Blue, Green, Pink, Purple, Red, White |